Spotty Green Frog News
19th December 2014
Christmas Gift Voucher
There's still time to get great children's gifts from Spotty Green Frog. Select express delivery to receive your order by Tuesday 23 December (UK Mainland Only. Not available for The Highlands, Islands or Northern Ireland).

And that's not all...enter discount code RPJTO501 during checkout to receive 10% off.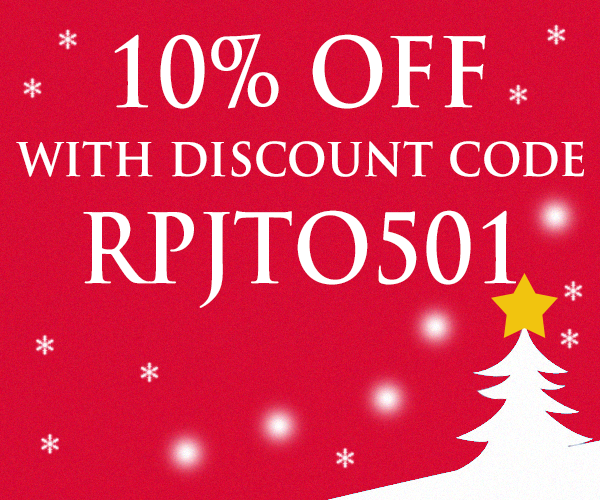 16th December 2014
Christmas Gift Ideas for Children
With Christmas just a few weeks away, it's crunch time for all you last minute shoppers out there! Take a look at our fantastic range of children's toys for boys and girls that are sure to keep them entertained for the whole of Christmas day!
Aladdin & the Magic Lamp Pop-Up Book with Sounds

Alice in Wonderland 3D Pop-Up Book with Sounds

Join Aladdin on his adventure, as a sorcerer and a magic lamp change his life forever. This exhilarating retelling takes readers deep into the cave of treasures, whisks them away on a magic carpet and plunges them into battle with the sorcerer - all accompanied by dramatic sounds and Paul Hess's unforgettable illustrations.

This book must be seen to be believed. Incredibly beautiful version of the classic Alice in Wonderland. With lovely illustrations and superb sound chips, surely these will be collectors' items in the future.

Children will delight in her adventures at the White Rabbit's house and with the Cheshire Cat!

£11.99

£11.99

Playtime Teddy Hand Puppet Book

Snuggle Bunny Hand Puppet Book

A lovely story book with a cute and cuddly hand puppet through the centre to delight and entertain young readers. Join in with Ted as she uses her paws to do all sorts of clever things - waving, pointing, clapping and of course, tickling. Children will love to join in and interact with the puppet, copying the actions and showing Playtime Teddy what they can do too.

Snuggle Bunny tells the tale and acts out all the words if you let her! A beautiful book with a hand puppet running through the centre, perfect for learning to read in a fun and happy way.

£9.99

£9.99

Alphabet Blocks Wooden Truck

With this clever update of a classic toy set, wooden letter blocks are ready to roll! A cargo of 28 wooden alphabet blocks (featuring uppercase and lowercase letters) stows on the sturdy trailer of this wooden truck toy.

Animal Wooden Shape Sorter Bus

Double Decker wooden shape sorter bus with 26 animals. Each of the 26 shapes fit into the pre-cut holes which are marked with the letters of the alphabet. Back door of the bus opens to retrieve shapes.

£14.99

£29.99

Flower House and Garden Wooden 3D Puzzle

Noughts & Crosses Cat Puzzle

Make your own Magical Flower House and Garden with this 3D wooden puzzle. Easy push fit assembly, no glue required. Comes complete with free standing display tray printed with flowers and paving stones which can be converted to a picture frame to display your favourite photos.

A classic fun game for two. This smiling wooden kitty provides encouragement for young minds to play with tactile chunky pieces.

£12.95

£12.99

Giant Dodo Bird Hand Puppet

Full-Bodied Puppet - Baby Orangutan

This Giant Dodo Bird Hand Puppet is one of our wide rage of hand puppets Spotty Green Frog has available. Puppets are great for providing a fun toy to play with as well as acting as a tool for a child to improve their creative side as they create stories and scenarios for their puppets to take part in.

Large full-bodied puppets, measuring 48cm tall, with hand access between the front legs making them easy to use for all ages. Representing all our favourite animals, they are suitable for children and adults with a smaller hand size.

£21.99

£14.99

Puppy & Kitten Puppets - Border Collie

Goldilocks and the Three Bears Giant Story Teller Puppets

Medium full-bodied puppy & kitten puppets, measuring 23cm tall. Representing all our favourite puppies & kittens, they are suitable for children and adults with a smaller hand size. Interesting shapes and materials make these puppets very collectable.

Develop storytime further with the aid of these Goldilocks and the Three Bears puppets. These giant puppets are great for schools, nurseries or for home use. They encourage children to speak through the character, building the childs confidence.

£8.99

£49.99
30th November 2014
Our Favourite Christmas Gifts for Children
In celebration of 'Black Friday', we have picked our favourite Christmas Gifts for children. Avoid the crowds and shop online from the comfort of your home with www.spottygreenfrog.co.uk.



Barbarossa Pirate Ship

Jacob the Pirate Budkin

With the Barbarossa Pirate Ship from Le Toy Van you can set sail on the seven seas of fun pretend play. The pirate ship holds so many pretend play details, that kids will sail off into the sunset with great imaginative play!

Jacob the Pirate Budkin is the youngest member of the crew aboard the Le Toy Van Barbarossa Ship. Jacob is a hard working lad and spends his time swabbing the deck or up in the crows nest!

£40.00

£5.49

Container Ship and Crane Wagon

Peace Boat 3D Puzzle

The popular container ship carries cargo across the imagined waters. Load and offload by using the moveable crane to crank up the magnetic loads from the ship and place them on any train wagon.

Great fun for both children and adults! The puzzle kit comprises of 120 styrofoam pieces. The pieces are pressed out in number sequence, and slotted together to complete an impressive 3-D model of the Peace Boat.

£19.99

£9.99

Red Pirates & Corsairs Gift Set

This 5 piece Red Pirates and Corsairs Gift Set is one of our most popular figure sets. Includes four different pirate figures and a treasure chest.

Pirate Ship & Seashore Wooden 3D Puzzle

Make your own Pirate Ship and Seashore with this 3D wooden puzzle. Easy push fit assembly, no glue required..

£24.99

£13.99

Budkin Bride

Princess Amelia Budkin

A lovely Budkin bride from the Le Toy Van Budkins World. A bendy wooden character created for little hands and big imaginations.

Beautiful Princess Amelia enchants everyone she meets with her kind character and beautiful ways. She wears a dress in her favourite colour, pink, with matching rose headband.

£5.49

£5.49

Savannah Wooden Wild Animals Set

Sentry Box with Budkin Guard

Go on safari with the Savannah Wild Animals Set from Le Toy Van. A set of 6 painted wooden animals. Includes a lion, a lion cub, a crocodile, a giraffe, a rhino and a rhino calf.

This smart Le Toy Van guardsman James Budkin, complete with busby and his own stylish sentry box, stands guard at the gates of any Castle.

£21.99

£11.99

Truth Fairies Budkins Gift Set

Le Toy Van Doll Family of 4

Flutter by the flowers with the Truth Fairies Set. This gift pack set includes 3 popular Budkins figurines. The included Budkins are Fleur the Butterfly Fairy, Sky Angel Fairy and Summer Fairy.

This lovely pack of a family of 4 wooden dolls from Le Toy Van are the ideal family to move into one of our Wooden Doll Houses.

£16.99

£18.99
18th November 2014
Horse Toys & Christmas Gifts for Children
We have the ultimate collection for equestrian lovers! Open the door to imagination with our rocking horses, model horses and stable sets.



Baby Bear Infant Rocker

Baby's Wooden Rocking Horse

Featuring a plush huggable body covered in wonderfully textured bouclé fabric with lots of crinkles to delight young riders. In his pocket he carries his friend Birdy Bear, who has a rattle in his tummy and crinkly wings. Built around a sturdy wooden frame with detachable footplates, Baby Bear provides a safe ride for novice riders.

Ride off into the sunset on this colourful baby rocking horse. This beautiful little rocking horse is perfect for your little ones. With a supported seating area, this allows you to let your child rock with confidence that they are safe.

£69.79

£49.99

Textile Rocking Horse

Stormy The Wooden Rocking Horse

Our Textile Rocking Horse is light brown covered with corduroy. The two wooden handles can be held on to when the riding gets a little wild. Press on his ear and he neighs, gallops and moves his mouth. His material saddle and dark bridle can be removed with Velcro fastenings.

We love Stormy the wooden rocking horse. He is bound to become a part of the family as soon as he arrives at his new home. Children love his friendly smile and colourful paintwork. A cheerful addition to any playroom or nursery.

£49.99

£49.99

Fold & Go Stable

With a decorative green shingled roof, this wooden stable provides a happy home for 4 plastic horses. When open, your little farmer or equestrian has easy access to the hayloft, with its wooden ladder and 4 bales of hay. There's a stall for each horse, lots of sliding and swinging doors and a folding corral to keep the horses in the barnyard.

Horse Box Wooden Play Set

Load the two flocked horses into the trailer of this wooden big rig vehicle and you're ready to hit the road! The horse carrier comes with a pull-down ramp so that the horses can be loaded and unloaded with ease. This horse box play set is great for fine motor, language and pretend play.

£27.99

£13.99

Pasture Pals Horse Set

Horse Jumping Set

These 12 different horses feature velvety texturing, plus realistic manes and tails! Each horse stores in its own compartment in the wooden, barn-shaped crate. An informative identification key is included in this horse play set.

Show Jumping Set 4 movable knock down obstacles and 1 hedge style jump. Brightly decorated realistic jumps, grass effect play mat. Animals and figures sold separately.

£14.99

£14.99

Papo The Stable Block

Budkins Equestrian Set

Papo The Stable is a fantastic wooden stable block with stables for all your favourite horses. This wooden stable features 5 large stables, 4 with half stable doors that open and close. The roof is removable so you can easily keep an eye on your horses. The stable also comes with a red water trough.

Saddle up with the Le Toy Van Budkins Equestrian Gift Pack, a set of 3 fully poseable wooden equestrian characters wearing real fabric outfits. The set includes Riding Girl Polly, Show Jumper Pippa and Stable Boy Jimmy, complete with a broom accessory.

£47.99

£14.99
9th November 2014
Countdown to Christmas
There are only 42 shopping days to go until Christmas and to make things easy, each week we'll showcase our favourite toys every child will want! We have a huge selection of fantastic toys for kids of all ages.



Bus Wooden Shape Sorter

Victorian Steam Train Pull Along

This delightful wooden red bus shape sorter is ideal for little ones to learn shape recognition and hand eye coordination. Beautifully hand crafted and painted with non-toxic paints, this brightly coloured shape sorter is certain to provide toddlers with hours of fun.

Our wooden pull along Victorian steam train is hand crafted and brightly painted with non-toxic paint. A perfect first wooden toy for young children!

£24.99

£13.99

Activity Elephant Cube

Bop and Roll Activity Toy

This elephant activity cube made of robust beech wood and brightly painted is an excellent motor skills training toy! The 5 sides have various activities including a geometric shapes sorter, a double-sided puzzle with 6 rotating cubes, a motricity labyrinth and colorful gears

Little hands can grab and bop one of the three brightly colored balls into the hole on top, then watch as it cascades down four levels of patterns and designs. Sturdy wood and convenient ball catch at the bottom ensure baby can keep the fun rolling along!

£34.99

£24.99

Billy Magnetic Dress-Up Set

Whatever role he is playing, Billy can be suitably attired! Whether it is a police officer, a super hero, a knight, fireman, a construction worker or a pirate, he is ready for adventure at a moments notice. This set includes a magnetic wooden dress-up figure with a wooden stand and magnetic clothing pieces for pretend play!

58pc Jungle Adventure Bucket

Bristle Blocks are fun, easy to join together and you can use your imagination to create your own design or reproduce the examples on the box. The different sizes and special pieces are designed to stimulate creativity.

£9.99

£24.99

Power Tools Wooden Workbench

Wooden Ride On Toy

Equipped with detachable drill machine and affixed circular saw this work bench including vice is the perfect workstation for little craftsmen! Solid wooden construction, colourfully painted and clearly varnished. A special motor activity toy with hammer, screwdriver, wrench and several screws, nuts and perforated plates to build things with!

This cute and beautifully designed first Pink Wooden Ride on Toy, has been exquisitely designed by French Toy manufacturers Janod. It is made to the highest standards finished in a subtle shade of light pink with yellow painted head light. This pink ride on toy also has rubber wheels to ensure a smooth ride and makes it perfect for indoor or outdoor use.

£54.99

£69.99

Magnetic Sketch Board

Magnetic Wooden Robots

Free your imagination! A quick sketch, a house, a lovely flower… anything is possible with this wooden magnetic sketch board. Not happy with the result? Just shake it and you can start all over again. Very light and easy to take on trips.

These Magnetic Wooden Robots come with 12 pieces that can be mixed and matched to create many different robot creations. The Magnetic Wooden Robots encourange fine motor skills and provide toddlers with an introduction to magnets and plenty of imaginative play possibilities.

£7.25

£17.99
31st October 2014
Children can create a world of imagination with our high quality Le Toy Van wooden toys. Our premier wooden doll houses and beautiful accessories set the ideal scene for wonderful childhood adventures!



Le Petit Ark

Nursery Set

Le Petit Ark is a wonderful painted wooden shape sorter that it sure to engage young children in creative play. The set includes Noah and his wife and 8 pairs of animals, including elephants, lions, giraffes, camels, apes, zebras, leopards and birds.

The set includes a wooden baby Budkin, a buggy, a high chair and all accessories as pictured.

£20

£14.50

Sophie's Wooden Dolls House

Cherry Tree Hall

Sophie's House is a beautiful, award winning, classic wooden dolls house. In fresh white & rose pink this fully painted and decorated large 3 storey doll's house features a scalloped roof, a front porch and a floral motif. It includes a staircase, a loft ladder and opening shutters and windows.

Our Cherry Tree Hall Dolls House is 92cm tall and has 4 floors. It has windows at both the front and back of the house allowing light to shine all the way though. Each room is individually decorated to define room space and includes chimmneys and staircases with bannisters that act as room dividers.

£105

£170

Pet Set

This lovely Le Toy Van Pet Set is an ideal accessory for our Le Toy Van Doll House range. The set includes a dog, a kennel, a dog bowl, a bone, a cat, a cat mat and a cat bowl.

My Family of 4 Dolls

These poseable wooden dolls wear brightly coloured pretty clothes that are hand finished.

£8.99

£18.99

Outdoor Playset

Sugar Plums Children's Bedroom

This imaginative painted wooden set includes two play areas complete with wooden baseboards. Also included are a swing, a slide, a see-saw and a skateboard. Dolls shown sold separately.

This lovely Sugar Plum children's bedroom set is ideal for any Le Toy Van Doll House. The set includes detachable bunk-beds with duvets & pillows, a bedside table, a lamp plus a cot, pram and peg-baby. Dolls shown sold separately.

£24.50

£14.50

Daisylane Kitchen

Sugar Plum Bathroom

This painted wooden furniture set includes a Belfast sink with an opening cupboard below, a range cooker with opening doors and hood, an opening larder fridge, a table with 2 stools lots and lots of accessories for little dolls to prepare gourmet meals!

The set includes a bath, shower curtain, toilet, towel rail, sink and a bath mat.

£24.50

£14.50
30th October 2014
Halloween Fun & Lots of New Arrivals
Halloween is one of our favourite times of the year! Browse our spooktacular selection of children's Halloween costumes. We've lots of fun outfits at fantastic prices!



Alien Bug Costume

Baby Pirate Fancy Dress

This scary three-piece alien bug set will be every boy's dream costume to impress all his friends in. Featuring a bug eyed hat with curling tentacles, a padded armoured tabard and gloves with fake (soft) claws!

Ahoy! - The Baby Pirate Fancy Dress is a striking outfit with a red and white bold striped t-shirt, mini waistcoat and soft black hat and jagged trousers.

£19.99

£18.50

Brown Monster Costume

Disney Baby

Brown furry monster hooded cape with horns, ears and gold shiny spikes. Machine washable at 40ºc on a delicate cycle. Available in 2 sizes 18 months to 3 years and 4 to 8 years.

Share your baby's first Disney experience with this beautiful Aristocats costume. This all in one plush romper is soft, cosy and fun. It's the perfect outfit for a fancy dress event or for dress-up fun.

£19.25

£22.50

My Doll's School in a Suitcase

Children will love to play teacher with our My Doll's School in a Suitcase. An imaginative and clever suitcase which transforms into a school classroom in an instant. Includes every accessory budding teachers need to teach and educate their cuddly toys and dolls.

Push Along Wooden Parrot

A lovely and colourful wooden push along parrot. His wings move and his tail wags when pulled along. Guaranteed to put a smile on any child's face. An ideal toy to encourage a new walker too!

£29.99

£7.99

Pull Along Zebra Toy

Percy Pup Walker & Ride on Toy

This wooden pull-along zebra has a special feature: the colourful gear-wheels with different motifs can be moved and placed in different locations on the zebra. When placed together the gear-wheels of the zebra turn when pulled along.

Percy Pup is a soft plush puppy, which makes him a great walking companion. With his checked coat, he is ideal for little ones taking their first steps. Children will love taking Percy Pup for a walk. And when their little legs tire, they can hop on and ride him.

£13.99

£69.99

Pull Along Wooden Dinosaur

Pull Along Wooden Crocodile

Our cute pull along wooden dinosaur is brightly painted in sky blue. With a smile on his cute face his tail wobbles when pulled along. Rubber coated wheels for traction on carpet and smooth floors./p>

This brightly painted quality beechwood pull along crocodile has the cute factor with its wobbly tail & body when pulled along. Also floor friendly with its smooth wooden wheels.

£11.99

£11.99
20th October 2014
Toys Your Kids Will Love!
Soldier Skittles on Wheels

Owl Hammer Bench

Our handcrafted and beautifully painted 6 handsome wooden soldier skittles and 2 wooden balls on wheels, are a great 2 in 1 toy. Line up the 6 colourful Victorian soldiers and knock them over with the 2 wooden balls. Or slot the soldiers and the balls on to the pegs on the cart for a great pull along toy.

Knocking the pegs into the holes of the bench... that's what little ones like to do. This cute wooden baby owl hammer bench is great fun and a timeless wooden toy. Trains early motor activity skills.

£21.79

£16.99

Story Express Safari Train Set

Activity Loop

Bring home the adventure of being on safari with Janod's Story Express Safari Train Set. Designed in France, this set includes the 33 piece Story Box Safari Park, the Safari Train, and a wooden railway. You'll have everything your little one needs to make their own jungle tour.

There is a party in the jungle: the brightly painted jungle inhabitants can slide along the loops and get some speed with the wooden seesaw. The crocodile in the water can be rotated and opens and closes its mouth. With this colourful motor activity trainer children can nurture their dexterity and their hand-to-eye coordination.

£49.99

£24.99

Weaving Loom

Children can make their own creations with this weaving loom made of beech wood. 4 small wool balls (4g) in bright colours are included.

Deluxe Wooden Workbench

Prospective young craftsmen can train their carpentry and fine motor skills with this multi-functional wooden workbench: screwing, drilling, hammering and sawing. The workbench is also equipped with a screw clamp just like a grown ups one. Comes with a handy carry tool box so that tools can be carried around the house for those important DIY jobs!

£5.99

£34.99

Tabby Cat Costume

Frozen Fairy Dress

A plush tabby cat costume with feature hood, soft whiskers and padded nose. This ginger/tan tabby style has a soft tail with a front zip for easy wear.

An icy white fairy with a soft blue hue, trimmed with fluffy marabou, sparkling snowflake organza and silver highlights. Complete with matching glitter snowflake wings.

£23.99

£24.75
11th October 2014
New Arrivals: Our Favourite Picks
We have a huge collection of puzzles that will help kids learn about a variety of subjects including space, famous landmarks and the earth. This week also sees the arrival of our spectacular new marble runs that will provide hours of endless fun!
Big Ben 3D Puzzle

Arc de Triomphe 3D Puzzle

Have hours of educational fun by piecing together Big Ben 3D puzzle, one of the world's greatest landmarks. 
This 30 piece Big Ben 3D puzzle makes an excellent learning project and comes complete with full instructions.

This is a puzzle that you will not want to put back in the box as once it is completed it looks absolutely incredible! Made with high detailed pieces it will look fantastic in any home or office.

£5.99

£6.99

Solar System 3D Puzzle

3D Globe Puzzle

Our 3D solar system puzzle is ideal for young astronauts age three years and up. The 146 pieces have to be assembled in order to match the correct positions of planets in their orbit. Simply slot together the individual pieces, no scissor or glue required.

This 3D globe puzzle is made of sturdy card and offers a real challenge for little puzzle experts. With a simple click system a realistic copy of the earth can be assembled. Great for hand eye coordination and for children to expand their geographic knowledge of the planet.

£9.99

£9.99

These environmentally friendly, high quality wooden dinosaur construction kits encourage creativity and imaginative play in children. With the simple, patented, click-rotation system, the individual wooden pieces can be combined to create different dinosaurs almost without limits. Each Dinosaur construction kit comes with instructions to build 7 individual dinosaurs.

Tino

Brockie

£29.99

£29.99

Crocodile Racing Car Marble Run

Dolphin Marble Run

Fun curvy wooden crocodile marble run track to race your colourful cars down – 4 cars included. Watch the cars race to the bottom of this fun track.

Colourful wooden dolphins pass the marbles with their mouths. The marbles reach their destination by bouncing down the metal steps making a clunking sound. With coloured wooden figures and a stand of high quality, clear varnished beechwood.

£17.99

£17.99
27th September 2014
Check out this week's fantastic new arrivals!
| | |
| --- | --- |
| | |
| Crazy Dog Cart Walker | Block & Roll Toddler Toy |
| Our Crazy Doggy Cart is an adorable stylish and sturdy solid wooden baby walker. This lovely dog cart is perfect for little ones to take there first steps with. It has room for favourite toys so your child can have hours of fun pushing them around. | Mini wooden block cart with eight wooden shapes, 2 each of a square, circle, trapezoid and rectangle. The mini cart has natural wood wheels and a spiral graphic that is fun to watch when pushed or pulled. |
| £49.99 | £9.79 |
| | |
| | |
| Papo Wooden Zoo | Magnetic Wooden Airplane |
| Our Papo Wooden Zoo is a fantastic wooden zoo with pens and cages for all your favourite animals.
 This wonderful wooden zoo features a turnstile for visitors, 2 animal pens and 2 cages with sliding bar sections. | This Magnetic Wooden Airplane is a cleverly designed wooden toy from French toymaker Janod, and is a puzzle and toy all in one! The plane consists of 6 pieces each containing strong magnet connectors to encourage the child to take it apart and fit it back together again. |
| £49.79 | £15.49 |
| | |
| | |
| Children's Wooden Desk & Chair | Body Magnets Educational Set |
| This beautiful Children's Natural Wooden Desk & Chair set is made from replenishable rubber wood (which means it's eco friendly!). Desk lid also lifts up to reveal storage space underneath for all little bits and bobs! | Learn all about the human anatomy in 9 languages while having fun. Match the 76 magnetic body parts to the magnetic board using the descriptive cards, gradually assembling the body from the skeleton to the organs to the skin. |
| £84.99 | £26.99 |
| | |
| | |
| Giant Drawing Desk | Activity Play Centre |
| The Janod Giant Drawing Board comes with a built in paper roll (length: 2.70m). Children can instantly show all their pictures to friends or family by turning the handles on the side to scroll the paper roll. Crayons included! | This uniquely-shaped Wooden Triangle activity play center includes a removable top with beads that can be inverted into the base of the activity centre, a sliding peg board, a shape sorter, and a board with fun gears to spin |
| £13.99 | £46.99 |
| | |
20th September 2014
Feed Imagination with our Cook & Play Wooden Toys
Feed children's imagination with our selection of Traditional Wooden Toys. Our Children's Kitchen Playset collection is brimming with beautiful creative toys that are built to last!
Petit Fours Wooden Play Set

Honeybake Cake Stand Set

A wonderful gift-box style package of 3 daintily painted wooden cakes. This painted wooden petit four selection includes 2 cupcakes and a layered little sponge cake.

Serve in style at your tea parties with our elegant 3 tier wooden cake stand complete with 8 detailed and yummy looking little wooden cakes.

£7.99




£17.99

Wooden Cookie Set

Wooden Cafe Machine

Bake up some treats with this lovely wooden cookie set! A shape-sorter cookie set with baking tray. It features 5 differently shaped cookies with interchangeable toppings plus a rolling pin and an oven mitt. The baking tray is scaled to fit in the Le Toy Van ovens.

Anyone for an espresso? Our brightly painted red wooden cafe style coffee making machine includes colourful pods to insert in the removable filter, a 'milk frother', two cups and a spoon. The pods are neatly stored on the top of the machine.

£17.99

£21.99

Honeybake Dinner Set

Pots and Pans Set

A lovely 8 piece wooden crockery and cutlery set from Le Toy Van. Includes 2 mugs, 2 plates, 1 bowl, knife, fork and spoon. Great for pretend play dining!

This Le Toy Van Wooden Pots and Pans Set is a a delightful wooden cookware set for budding young chefs! Includes casserole with lid, wok, griddle pan and tongs. Complete with fabric pot holder.

£16.99

£17.99

Pink Oven & Hob Set

Wooden Kitchen Sink

Cook up a feast with the Le Toy Van Pink Oven and Hob roleplay set. This comprehensive set inspires creative play and has a pastel pink colour scheme.

This stylish painted wooden oven & hob set includes: a 4 ring hob with frying pan & play food, 2 utensils, a clock with movable hands, an easy open oven with removable rack and gingham oven gloves.

Time to wash-up with this classic wooden 'butler-style' kitchen sink unit from Le Toy Van. Special feature include opening window with vintage style curtains, 'washing-up liquid' bottle and pot-cleaner set.

£64.99

£64.99

Apron and Utensil Set

Washing Machine

A lovely children's pretend play kitchen accessory set from Le Toy Van. Comes complete with Honeybake apron, tea-towel and five wooden utensils.

Let's do the Laundry! A delightful wooden washing machine and airer play set with accessories from Le Toy Van. Features an opening soap-drawer with soap-tablet, clicking control knob and manually operated rotating drum function. Complete with toy soap, soap-box, fabric conditioner and integral drying line.

£16.99

£44.99
8th September 2014
New arrivals! Peter Rabbit and push along toys.
This week's New Arrivals include our adorable collection of Peter Rabbit & Friends toys, a colourful assortment of children's push along toys and Wooden Puzzle sets to inspire creative and educational playtime for your children.
| | |
| --- | --- |
| | |
| Peter Rabbit Wooden Music Box | Push Along Peter Rabbit |
| A beautiful Peter Rabbit handcrafted Wooden Musical Box. Wind the little key on the underside and the magnetic rabbits on the top dance and twirl to the tune of Brahms lullaby. 
Children and adults will both enjoy this lovely addition to a child's nursery, playroom or bedroom. | This bright Push-Along Toy is hand painted in a gorgeous, colourful design that will have your little one toddling along in no time. An ideal toy to encourage a new walker! This toy is suitable for children 12+ months. The length of the stick is approximately 45cm. |
| £16.99 | £8.99 |
| | |
| | |
| Peter Rabbit Skittles | Jemima Puddle Duck Push Along |
| This adorable set of Peter Rabbit Skittles is a beautifully handcrafted and hand painted wooden toy that will keep your little one entertained for hours. The set consists of 6 wooden skittles with rounded bases from the Beatrix Potter books and 2 wooden skittle balls. | Our Jemima Puddle Duck Push Along Toy is a fun handcrafted wooden toy that will keep your little one entertained for hours. The Push Along has colourful wooden beads at the bottom that make a clacking noise when pushed. |
| £16.99 | £8.99 |
| | |
---
Our lovely Wooden Push Along toys are guaranteed to put a smile on any child's face! They are ideal for encouraging little new walkers and are great value too!!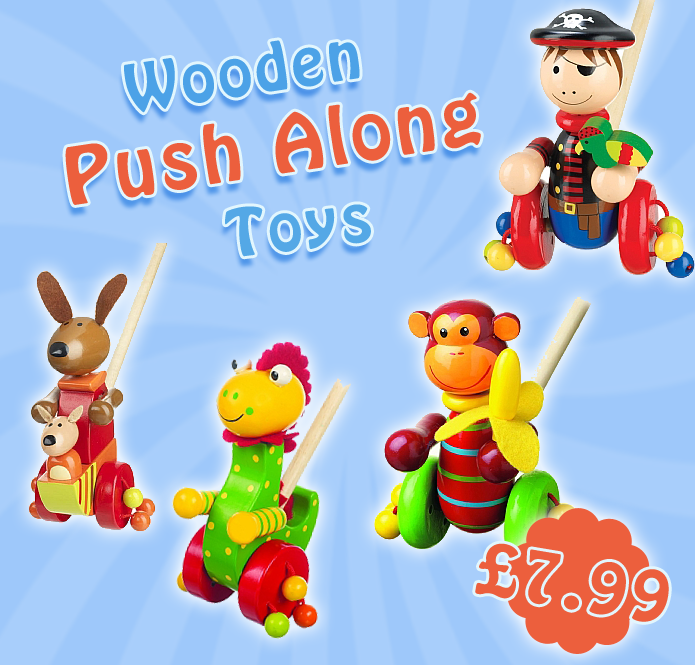 ---
These beautiful Wooden Puzzle Sets are expertly hand crafted and painted in bright colours. Perfect for little hands, these lovely puzzles are a perfect introduction to the world of puzzles for younger children.
| | |
| --- | --- |
| | |
| Wooden Alphabet Puzzle | Woodlands Friends Puzzle Set |
| Slot these colourful and fun dragon pieces together to form this fire breathing critter which has the alphabet printed along his body and tail. This large 30 Piece Puzzle is ideal for young children learning their ABCs. | The cute and chunky puzzle pieces are bound to become a favourite with your child, which will be enjoyed for years and are sure to be passed down to future generations. The Woodland Friends Puzzle set includes a rabbit, an owl and a fox. |
| £19.99 | £8.99 |
| | |
29th August 2014
Get creative! Craft sets and educational toys for Children
From traditional children's toys to unique gifts, we have a wonderful selection of creative and educational products. Here are some of our best sellers....
| | |
| --- | --- |
| | |
| Astronaut Set in a Tin Case | Wooden Shaving Kit |
| With our creativity astronaut set everything is included for children to build and paint a real wooden rocket! There is even a set of stickers to decorate your creation once it has been built and painted. Comes in a lovely painted space themed tin suitcase. | Children will love going through their daily grooming routine with this wooden grooming and Shaving Kit. Open the case to reveal lots of grooming accessories. The kit includes a toothbrush, toothpaste, razor, shaving foam, cologne, hair dryer and comb. |
| | |
| | |
| Creativity Pirate Set | Eva Paper Flower Set |
| With this lovely creativity Pirate set in a tin case you will find 8 different colours of high quality modeling dough, a plastic knife and a wind-up mechanism. Choose your colours and build your own pirate, parrot (or any other figurine) around the wind up mechanism. | Our creativity Eva Flower making set contains all the necessary material to make your own lovely flowers. The delightful decorated round box can be used as a vase for the flowers or for storage. |
| | |
| | |
| India in a Tin - Creativity Set | Wooden Castle & Accessories - Special offer! £29.99 |
| With this lovely creativity India Set in a tin case you will find 8 different colours of high quality modeling dough, a plastic knife, 3 hair clasps and 3 rings. Children can assemble their own jewelry according to their imagination. The modeling dough is ultra light, soft, elastic, doesn't stick and can be used all over again if you humidify it. | The Le Toy Van Budkins Wooden Castle includes lots of features for hours of fun pretend play. The Le Toy Van Budkins Castle was selected by Spotty Green Frog for its ability to develop creativity in children. |
| | |
| | |
| Le Toy Van Doctor Set | Wooden Vanity Set in a Case |
| Doctor Doctor! A vintage style, child sized, fabric Doctor's Bag filled with wooden medical instruments and bottles. The Le Toy Van doctor set includes a toy stethoscope, thermometer, syringe, blood pressure gauge, ear scope, reflex hammer, scissors and two medicine bottles. | Almost every little girl dreams to do as mommy. With this wooden vanity set packed in a nice little case she can experiment to her heart's content. The case comes with a built in mirror, so that she can admire her results and make sure she looks her best!. |
| | |
19th August 2014
Still time to order children's butterfly kits!
There is still time to order our butterfly kits and caterpillar refill sets. Watch the transformation of caterpillars into beautiful Painted Lady Butterflies and then release your adult butterflies into the wild! Our butterfly kits come in a variety of different sizes and make great birthday presents!
| | |
| --- | --- |
| | |
| Giant Butterfly Set & Figures | Large Butterfly Kit |
| Includes a 45cm high, collapsible and reusable habitat, certificate for 10 caterpillars with food feeding pipette, instructions and Painted Lady Butterfly Life Cycle Stages figures. | A large butterfly set for up to 10 butterflies. You will receive a large butterfly pavilion (60 cm tall), a certificate for ten caterpillars and food and a detailed fun-filled fact guide. This butterfly kit is ideal for use in schools or at home. |
| | |
| | |
| Kids Butterfly Set | Butterfly Refills |
| This butterfly farm kit comes complete with a fun-filled fact guide containing lots of information on butterflies and metamorphosis and a certificate for 5 caterpillars. | If you have bought a childrens butterfly kit and would like to buy more caterpillars for your butterfly set, you can do so using this Insect Lore Butterfly Refill coupon. You buy the coupon or voucher from Spotty Green Frog and then arrange for new set of five caterpillars to be delivered. |
| | |
*Postage and packaging fee required when redeeeming your caterpillar vouchers.
Keep children amused all through the holidays with our range of outdoor garden games. Our games are guaranteed to provide fun for the whole family!
| | |
| --- | --- |
| | |
| Chameleon Beanbag Toss Game | Children's Red/White Deckchair |
| A double-sided bean bag toss game provides two challenging ways to play. Eight bean bags team with this colorful target to increase hand-eye coordination, number recognition and counting skills. | With this lovely children's red and white striped deckchair, the kids (and the parents) can find a moment of rest and quiet. Supplied with a safety screw to protect their little fingers. |
| | |
| | |
| Giant Snakes & Ladders | Croqkick Football Skills Game |
| With a giant inflatable dice to determine your score, this is an all round family game. The mat comes complete with eyelet holes and pegs to keep the game fixed to the lawn. Durable and substantial, this giant version of snakes & ladders really allows you to become part of the game. | A fantastic set for budding footballers to use to train key skills or to play competitive passing games. The set comes complete with ideas for 5 different games to practice dribbling, tackling, passing and shooting for a variety of numbers of players. |
| | |
4th August 2014
Skipper Pond Yachts, Kids Fancy Dress Costume Ideas and Construction Toys.
Some exciting new arrivals this week! Order online or call 0845 459 3270.
These awesome pond yachts are made by Skipper; a British company known for producing beautifully designed and handmade wooden yachts. Skipper's range of traditional pond yachts is the quintessential toy for anyone at any age who loves boats and sailing!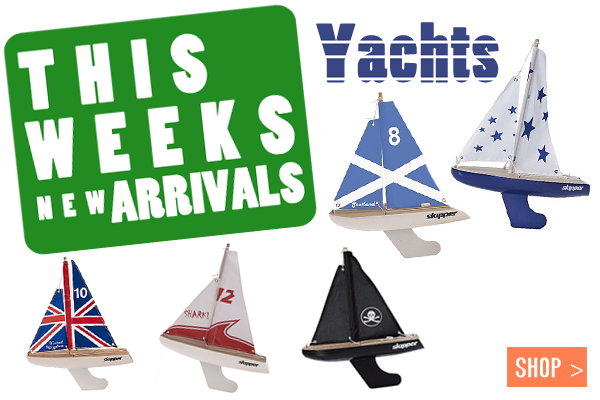 A great selection of Children's role play costumes. These role play costumes are ideal for children aged 3 to 6 years of age. From waitress to fireman, vet to doctor children can dress up as the person they would like to be when they are grown ups.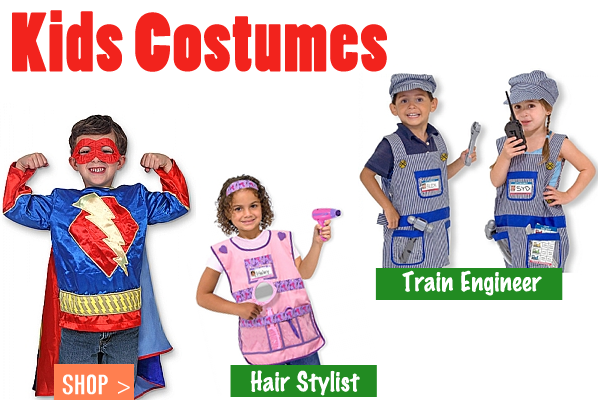 Our massive selection of building sets, construction kits and building blocks are great creative learning toys for children of all ages. Click to view our full range of construction toys on Spotty Frog.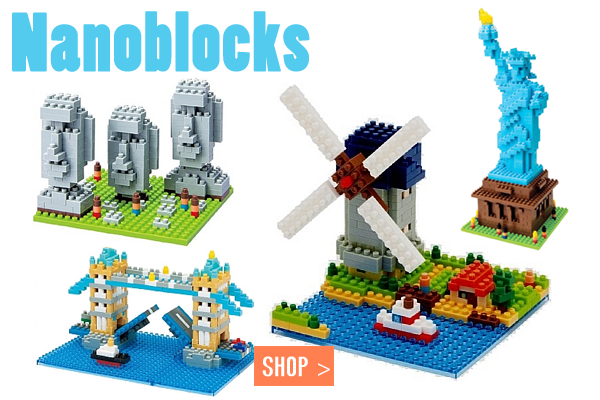 Our great selection of children's wooden tools, children's carpentry tools, tool boxes, tool belts, workbenches and children's woodworking project kits are perfect for budding young carpenters and builder Bobs!!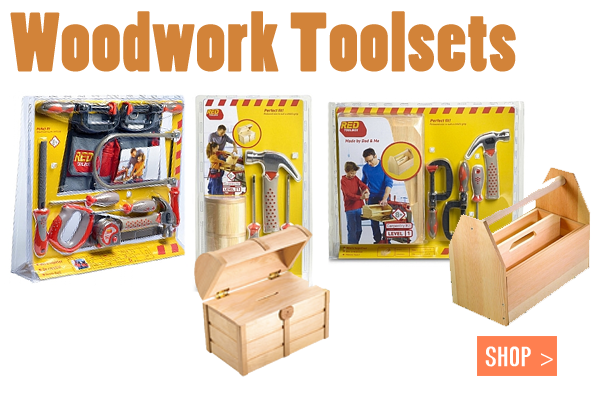 8th July 2014
Wooden Train Set & Kids Dinosaur Toys
NEW colourful wonderful toys now in stock!!
Children can use their imagination to build their dream eco city through hours of fun with this futuristic train set. Our colourful kids dinosaur toys are ideal for young children's imaginative play and are beautifully crafted from eco friendly bamboo wood.
1st July 2014
Summer Fun for Kids
We've got some fantastic new products that will keep children happy for hours!
Creativity Sets
These awesome creativity sets are perfect for children's parties, chilling in the garden or make great birthday gifts!
Children's Play Tents
Suitable for indoor and outdoor play, these children's play tents are easy to set up and will provide hours of fun! Easily transportable in the bag provided, these tents are ideal for family picnics or fun on the beach.
Trikes and Bikes
We just keep on adding to our bike and trike collection and here are a couple of our best sellers. Check out our full range at www.spottygreenfrog.co.uk.
21st June 2014
The summertime is here and it's time for children to enjoy playing outside in the fresh air. Outdoor play encourages kids to exercise and improves the well-being of children. We have some great toys that encourage children to seek out the natural environment and have fun!
Children's Deck Chairs - 24.99
These easily foldable deck chairs will look great in the garden and are perfect for a trip to the beach. Supplied with a safety screw to protect their little fingers, these lovely children's deck chairs are comfortable and fun! This child's deck chair is available in red with white stripes or blue with white stripes.
Children's Explorer Case - 24.99
It's the perfect set for junior explorers and gets children out in the garden learning all about nature. All stored in a lovely suitcase with insect motif, your curious little explorer will have everything they need to discover the wonders of the garden. Click to visit the Children's Explorer Case product page.
Bon Voyage Travel Set - 24.99
Our Bon Voyage travel set in a suitcase has everything to keep little ones busy while traveling: a landscape with stickers, a magnetic book and a magical sketch board. Hours of fun!
The double sided landscape comes with stickers. Choose the items that you want to find during your trip. As you travel along place the matching stickers onto the landscape. You can put them on the car windows too! The magnetic book comes with magnetic boys and girls clothes. Choose the clothes you would like to take on holiday and dress the boy or girl.
Children's Flower Garden Set - 17.99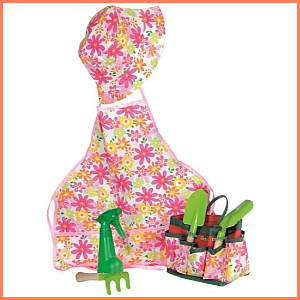 Our Children's Flower Garden Set is a complete gardening set for the professional young gardener. Includes: apron, hat, trowel, spade, hand rake and spray bottle. Comes complete in a nice carry bag with a lovely flower print.
Children's Butterfly Garden Set - 17.99
Our Children's Butterfly Garden Set is a complete gardening set for the professional young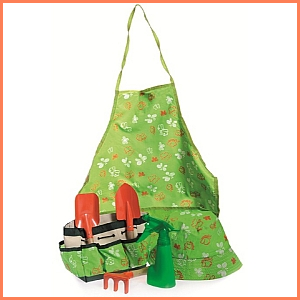 gardener. Includes: apron, hat, spray bottle, trowel, spade and hand rake with wooden handles and orange steel heads. Comes complete in a nice carry bag with a lovely butterfly print. Size: 22 X 22 X 9 CM Age: 3+
Butterfly Planting Set in a Suitcase - 21.99
This lovely butterfly design garden set comes complete with it's very own little suitcase and includes an apron, hat, spade and a set with 4 pots, plant markers, 4 different seeds and peat to grow your own plants. Have hours of educational fun in the garden. Also includes instructions on how to grow very nice flowers!
Polka Dot Watering Can - 9.99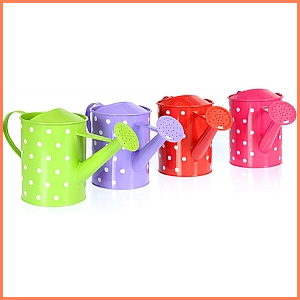 Very durable children's metal polka dot watering can. Available in fuchsia, mauve, green or red. Great for playing, watering your plants or as a decorative object. Capacity: 1.5L Size: 45cm Age: 3+.
The summertime is here and it's time for children to enjoy playing outside in the fresh air. Outdoor play encourages kids to exercise and improves the well-being of children. We have some great toys that encourage children to seek out the natural environment and have fun!
January 2012
Take a look at the fantastic entries we have received for our Children's Writing Competition! Winners to be announced shortly after the closing date - 31st March 2012.
December 2011
Applegarth Primary School were the lucky winners of our Cheeky Monkey Apron Competition and even sent in a picture of their prize!
November 2011
Find out what's new at Spotty Green Frog.
October 2011
Halloween fun for children.
Caroline Blatchford (MD of Spotty Green Frog) and her children were photographed with their pony Rocky for an article on pet insurance.
September 2011
Katie's Egyptian day at school included making oil from olives, feeding the Queen of the Nile and dressing up in Egyptian outfits!
June 2011
The St Nicholas Green Spaces Association sent us an update on how the tools they bought from us are helping them!
May 2011
Spotty Green Frog shortlisted for The Coast Award for Online Excellence at the Winchester Business Awards!
March 2011
Spotty Green Frog teams up with Compton Hospice in a grow your own sunflower competition!
January 2011
Spotty Green Frog introduces a new range of Vegetable and Fruit Plants by post. The simple and easy was to grow your own fruit and veg!
Spotty Green Frog has ventured into the world of Social Media by launching its very own Facebook page. Go to Facebook now and click 'Like' to find out more!
Steve Brine MP uses a worm composter to recycle food waste with help from website Spotty Green Frog. He has a wooden beehive composter in his garden. It will recycle food from a family of four.
The Spotty Green Frog team have launched worm composting workshops in Hampshire. Bookings are now being taken for these primary school workshops.
A Daily Mail supplement featured Spotty Green frog in a recent article. See the 'weekend' magazine review of our great gardening tools for kids!
November 2010
For those of you who have spoken to our Customer Service Manager Laura Fynney on the phone and ever wondered what she might look like, you may be quite excited to know that she is the star of our brand new video! In this video Laura demonstrates to viewers how to create the perfect environment...
Spotty Green Frog Starts It's Very Own Desktop Wormery! The wriggling world of worms has come squirming into the office at Spotty Green Frog. What better way to learn about worms than to have them sat right on your very own desk!...
October 2010
New Outdoor Playgear range from Little Pals Spotty Green Frog has a new range of outdoor children's wear from Little Pals. This bold and beautiful new range from little pals comes available in three different designs, jumping frog, butterfly and wildlife. With wellies, waterproofs...
Spotty Green Frog is delighted to announce the appointment of computer games expert Marcus Forsey....
August 2010
Any new team member who brings in a huge plate of chocolate cupcakes in her first week is almost certain to get off to a good start with her colleagues. Customer Service Manager Laura Fynney, who joined Spotty Green Frog in July, has a passion for cupcakes. Having learned her cupcake making skill...