Halloween Games for Children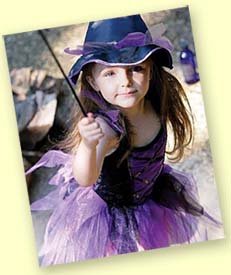 Halloween is great fun for little witches and wizards. Spotty Green Frog's www.SpottyGreenFrog.co.uk next three newsletters include great ideas for:
Halloween games
Spooky Recipes
Easy to make dressing up ideas
To see our full range of Halloween Costumes click on the link.
Witch's Worms
.........................
Would you like to eat a worm? Witches and wizards love them – especially long red worms. This first game is very popular for all ages! (Over 4 years old)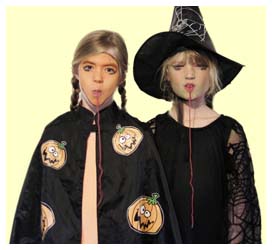 You Will Need
A bag of worms (AKA strawberry shoelaces)
To Play
Line your witches and wizards up.
Each witch or wizard puts then end of a worm in their mouth and their hands behind their back.
It is a race to see who can suck up their worm the fastest.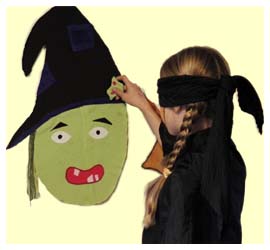 Pin the Nose on the Witch
.........................
Wanda the witch lost her nose when a spell went wrong. Her cat Slinky found it. Now you need to put her nose back in the right place.
You Will Need
A big picture of witch's face with a cross to show where the nose should be.
Blindfold
Witch's nose with Blu-Tack or sticky tape on the back
To Play
Blindfold each of your witch's cats, goblins, ghouls and dragons in turn.
Like Pin the Tail on the Donkey the aim is to stick the nose on the witch
Top Tip
Children will enjoy creating the witch's face in the run up to Halloween
Halloween Costumes
.........................
To see our full range of Halloween Costumes click on the link.
Facebook
We have an active Facebook page with a growing community of teachers. Please go to Facebook and look for Spotty Green Frog.
Twitter
Follow us on twitter!
NEXT WEEK Easy Halloween Recipes
Contact
www.SpottyGreenFrog.co.uk info@spottygreenfrog.co.uk
Spotty Gift Boxes Limited
2 Hinton Fields, Kings Worthy, Winchester SO23 7QB
Tel: 01962 889460
Company registered in England & Wales, Co Reg No 05274445