Large Butterfly Pavilion Set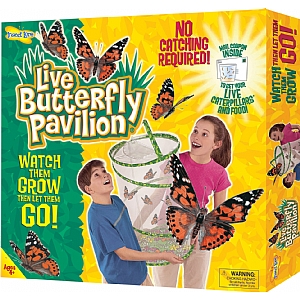 A large butterfly set for up to 10 butterflies. You will receive a large butterfly pavilion (60 cm tall), a certificate for ten caterpillars and food and a detailed fun-filled fact guide. This butterfly kit is ideal for use in schools or at home. Once you receive your butterfly set, you can use your voucher to choose when you would like to receive your caterpillars. Perfect if you are planning for birthdays or have a school project.

Simply follow the instructions on your certificate and choose the week in which you would like to receive your caterpillars and their food. You need to allow 3-5 weeks for the whole life cycle. Postage and packing for the caterpillars when you redeem your voucher is £4.99. The set comes with a guarantee of at least 6 perfect butterflies emerging but usually the success rate is higher than this. Once your butterflies have hatched out you can observe them for a few days and then let them loose into the garden.

Painted Lady butterflies are native to the UK and will survive well outside. After you have released the butterflies you can either pack your pavilion away for use next year or buy more vouchers for caterpillars (perhaps if another class wanted to use it).

The caterpillars are usually available from the end of February to September (exact dates are dependent on weather). However, if the weather is below freezing the dispatch date will be delayed.

To see other lifecycle products including other butterfly kits please go to Life Cycle Kits by clicking on the link or using the left hand navigation buttons. Refills of 33 caterpillars now available for the Classroom and Large Pavilion Butterfly Kits.
Large habitat 60 cm
Voucher for 10 caterpillars
Delivery options
Standard Delivery

£4.49

Express Delivery

£8.95

Highlands, Islands & N.I.

£12.99
Mainland UK (excluding Highlands)
For full details of our delivery options click here
You may also like
Customer Reviews





granddaughter
Reviewed by Jane Morgan from Beaminster Dorset
Having used this site before, I had faith in the quality of their goods and I wasn't disappointed. It was a present for our granddaughter for her sixth birthday. She loved it. Thank you Spotty Green Frog.
June 2015





Large Butterfly Pavillion Set
Reviewed by Karen from St Michaels Juniors
Very pleased with the product and delivery time, the pupils cant wait to get their caterpillers and get started
February 2014





Butterfly set
Reviewed by Alix smith from Aberdeen
Highly recommend!
July 2012





Reviewed by Alison Baker from Leeds
I am a childminder and bought this butterfly pavilion as a project for the children I look after. I am very impressed, all our caterpillars thrived it was amazing to watch them grow and transform into chrysalides then into beautifull butterflies, we released them today which was a bit sad but I've just reordered and we are going to do it all over again
May 2012





Large Butterfly Set
Reviewed by SUSAN EVANS from LIVERPOOL
Had previously bought one for my sister's grandson - he loves it and buys extra catipillars for it each year. This one i bought is for my daughter to give as a birthday present to her 4 year old nephew. He is so excited, and can not wait to get the catterpillars. I know he will get years of pleasure from this birthday gift.
October 2011
Try these categories:
Minibeast Habitats and Lifecycles
Life Cycle Sets
Butterfly Kits & Life Cycle Sets
News
Keeping butterflies in a classroom gives children the chance to see the lifecycle of the butterfly at first hand. If you are planning to get a school butterfly kit for the first time and have some queries, read our FAQs....