Butterfly Life Cycle Stages Set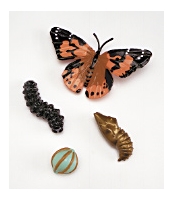 Children are fascinated by this butterfly life cycle set. They can see close up the changes these fabulous insects as they change from egg to caterpillar to chrysalis and finally emerge as beautiful butterflies.

This childrens educational model butterfly and caterpillar kit is both accurate and detailed. The butterfly in the model is the Painted Lady Butterfly which is native to the UK.

The models are larger than life to make it easy for young children to handle.

We also sell Grow Your Own Butterfly Kits.
Four piece set egg, larva, chrysalis, buttefly
Not suitable for children under 3 years old
Delivery options
Standard Delivery

£4.49

Express Delivery

£8.95

Highlands, Islands & N.I.

£12.99
Mainland UK (excluding Highlands)
For full details of our delivery options click here
You may also like
Customer Reviews





Very nice little set
Reviewed by Nicola from Reading
This is a very nice, well made little set. I bought it at the same time as the butterfly house to help explain to my children what was going to happen when our caterpillars arrived. The models are nice and big, just the right size for a child to hold and take a good look at. They are also very robust and can take quite a bashing without getting damaged.
August 2012





Butterfly Life Cycle Set
Reviewed by SArah Mitchell from Wakefield
Good quality and educational
July 2011





Senior Admin. Officer
Reviewed by PAULINE EVANS from BROADFIELDS PRIMARY SCHOOL
Very worthwhile resource which will be used to see the children through the lifecycle of their own butterflies.
March 2011
Try these categories:
Butterfly Life Cycle Sets
Butterfly Kits & Life Cycle Sets
Insect Lore
News
10 Interesting Facts about Painted Lady Butterflies. Native to the UK Painted Lady Butterflies are most commonly used for Butterfly Lifecycle Sets....
This article contains names and descriptions of 10 different species of butterfly that can be found across the UK...