5 Caterpillar Refill voucher for Butterfly Kits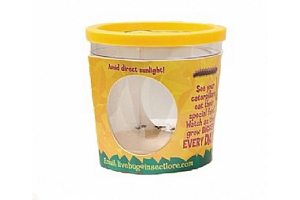 If you have bought a childrens butterfly kit and would like to buy more caterpillars for your butterfly set, you can do so using this Insect Lore Butterfly Refill coupon. You buy the coupon or voucher from Spotty Green Frog and then arrange for new set of five caterpillars to be delivered by completing an online form using the unique code on your voucher or by completing the coupon and posting it.
The caterpillars are usually available from the end of February to Mid September (exact dates are dependent on weather).
PLEASE NOTE a) This coupon is for caterpillars only. It is for use when you already have a butterfly set and just need more caterpillars. Complete butterfly life-cycle kits are available from Spotty Green Frog. b) If you buy a complete grow your own butterflies set, you do not need to buy this coupon separately. There is one included in your set.

Refills of 33 caterpillars now available for the Classroom and Large Pavilion Butterfly Kits.
Please note that Express or Saturday delivery is not available for caterpillars.
Five caterpillars included when you redeem your coupon
Caterpillars usually dispatched March - September
Delivery options
Please note that Express or Saturday delivery is not available for caterpillars.
Standard Delivery

£4.49

Express Delivery

£8.95

Highlands, Islands & N.I.

£12.99
Mainland UK (excluding Highlands)
For full details of our delivery options click here
You may also like
Customer Reviews





Caterpillar purchase
Reviewed by Louise Squires from Loughborough
Good service,
July 2013





Excellent Service
Reviewed by Alison Crow from Dunbar Primary School
These arrived promptly and children were delighted to see them transform into butterflies which have since matured and been let free in the school gardens.
May 2013





5 caterpillar refill
Reviewed by Pam from Basingstoke
I bought the original set from green spotty frog for my grandchildren and was so pleased with the product that i have now purchased the refill fir them for this year. The service you get is very fast and professional. Will definitely recommend green spotty frog in the future,
April 2013
Try these categories:
Butterfly Life Cycle Sets
Butterfly Kits & Life Cycle Sets
Insect Lore
News
Keeping butterflies in a classroom gives children the chance to see the lifecycle of the butterfly at first hand. If you are planning to get a school butterfly kit for the first time and have some queries, read our FAQs....
This article contains names and descriptions of 10 different species of butterfly that can be found across the UK...