Butterfly Cage Makes Home for Pet Stick Insects
Don't pack your butterfly cage from Spotty Green Frog away for the winter. Instead, up until September, you can buy butterfly and caterpillar refill vouchers. Use these vouchers to receive 5 additional caterpillars.

Already winter? The folding net cage from the butterfly set is the same as the cage in the pet stick insects kit. So you can re-use the net to make a home for Indian stick insects.

As with the caterpillars, you can buy a voucher to receive just the stick insect eggs from Spotty Green Frog. The stick insects can then be kept as pets in the net which you used for your butterflies.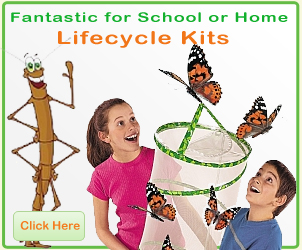 Stick insects are fascinating creatures which children enjoy watching grow. They are relatively low maintenance. They need foliage such as brambles, ivy and privet. To minimise the need to change the foliage, stick the ends into a piece of "Oasis" which has been soaked in water and the leaves will stay moist for longer.

A top tip for cleaning out stick insects is to remove any stick insects which you can see and put them in a secure box whilst you take out the foliage. Then place the twigs on a white towel or pillow case whilst you inspect it for stick insects doing what they do best – pretending to be twigs. Having a white background makes it easier to spot any of your pets which climb off the leaves.

Be careful when handling your stick insects to avoid damaging them.

Adding a piece of kitchen towel to the bottom of the cage can also be helpful because it enables you to see the eggs. Once you have some stick insects, they will lay eggs which hatch out into more stick insects.

Most children, even those who are nervous about insects such as spiders, enjoy handling stick insects and are happy to hold them on their hands. For this reason they make great pets.

Click on the links to buy a voucher for stick insect eggs, a refill voucher for caterpillars, a stick insect set or a Grow Your Own Butterfly Kit.

NB: All of Spotty Green Frog' products are available to send to schools. You can either buy online or call us if you need us to send an invoice before payment.

If you have any questions about the butterflies or stick insects, please give us a call on 01962 889460 or contact us via email. We would also love to hear any stories which you have about your stick insects or butterflies or see any pictures. Did you see your butterflies come out of their cocoons? Did a butterfly land on Dad's nose? Or did you have to rescue an escaped stick insect from an unusual place? Let us know.