Kids Butterfly Set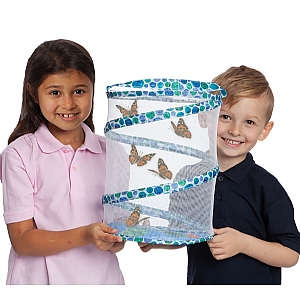 This childrens butterfly kit gives children the chance to watch the life-cycle of the butterfly close up. A magical experience! When you receive the kids butterfly set, you can send off the enclosed voucher for 5 live caterpillars and food (Your voucher covers the cost of the caterpillars but £3.99 p&p is payable). These caterpillars will then turn into chrysalis and emerge as Painted Lady butterflies. Keep your butterflies in their own Butterfly Garden and then let them go.

This butterfly farm kit comes complete with a fun-filled fact guide containing lots of information on butterflies and metamorphosis.
The caterpillars are usually available from the end of February to mid September (exact dates are dependent on weather). However, if the weather is below freezing the dispatch date will be delayed.

Caterpillar Refill Sets also available.

Three sizes of butterfly set are available: 5 caterpillars (this one) 10 caterpillars (large butterfly set) 33 caterpillar set (ideal for the home or classroom). NB: All of the sets include pre-paid vouchers for caterpillars and not the live caterpillars.

We also sell Butterfly Lifecycle Models. An earthworm nursery and a stick insect set are also available. Spotty Green Frog offers a wide range of products from Insectlore.
Butterfly Garden 30 cm tall
Not suitable for children under 4 years old
Voucher for 5 caterpillars and food
Caterpillars available March Mid-September
£2.99 p&p payable for caterpillars
Delivery options
Standard Delivery

£4.49

Express Delivery

£8.95

Highlands, Islands & N.I.

£12.99
Mainland UK (excluding Highlands)
For full details of our delivery options click here
You may also like
Customer Reviews





A great present
Reviewed by Jo Watts from Wales
My grandson age 4 requested this as he had one last year and has not stopped going on about it since. He thinks it is great.
April 2016
Reviewed by Anonymous
The first Butterfly set I ordered arrived in immaculate condition, thank you. The second box was very battered and scruffy looking. I had no choice but to pass it on as a birthday present, so I hope the contents were in good order.
March 2015





Mrs Reeve
Reviewed by Tracey Reeve from United Kingdom
It's a shame that the caterpillar order can't be made at the same time as the kit as it seems to have been a long wait. It has dampened the excitement a little. However it is a great idea and when they arrive I'm sure that we will enjoy caring for them and watching them change.
June 2014





Amazing value
Reviewed by Helen foster from Hagley Primary School
The kids butterfly set has ignited our ks1 kids in ways we didn't imagine!
July 2013





mr
Reviewed by Emerson Aspinall from wigan
prompt service for the kit
July 2013
Try these categories:
Minibeast Habitats and Lifecycles
Butterfly Life Cycle Sets
Butterfly Kits & Life Cycle Sets
News
Keeping butterflies in a classroom gives children the chance to see the lifecycle of the butterfly at first hand. If you are planning to get a school butterfly kit for the first time and have some queries, read our FAQs....