Worm Composting: An Alternative Eco Friendly Way to Dispose of Kitchen and Garden Waste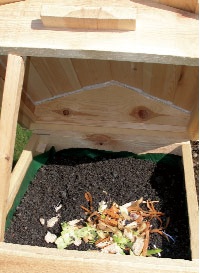 If you are someone who looks for new ways to increase the percentage of your waste that is recycled then there is a great, affordable way to do so. This method is called worm composting.
Worm composters offer a sustainable way to dispose of your kitchen and garden waste. Not only are they a great way to avoid waste mounting up before bin collection but they will also reward you in your efforts to be environmentaly friendly. One of the benefits to owning a worm composter is that you can gain highly sought after soil and liquid fertiliser that is perfect for growing strong and healthy plants.
Worm composters are completely eco friendly and take advantage of the natural life cycle in which we can gain new food from our waste. This allows them to double as great educational tools to teach your children about biodegradation.
These are some the many reasons why worm composting in the UK is becoming increasingly popular.
Spotty Green Frog are now proud to offer this alternative approach to being eco-friendly with our great beehive wormery. It is a beautiful looking and sustainable garden unit which is virtually hassle free. Simply fill the unit often with your organic waste and allow the worms to do the rest. After some time, when the worms have finished breaking down the matter, you are left with rich compost that is high in nutrients and perfect food your plants.
If you are interested in buying a worm composter or would like more information on worm composting then why not view our fantastic range of Worm Composters.