Miss Fynneys Divine Cupcake Recipe
Miss Fynney's divine cupcakes...
After being taught the ways in the kitchen by my Gran, Christine Arrowsmith, for what I can only imagine to be all 22 years of my life, it is hardly surprising I have a passion for baking, particularly cupcakes. This recipe has been inspired by all the baking and creating that has happened in my Gran's kitchen over the years.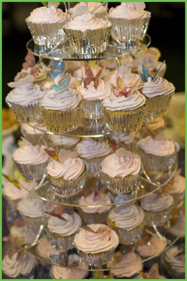 They are delicious and versatile, this recipe can be changed in many ways to create the perfect cupcake just the way you like it!
By following a basic sponge mix and adding in some flavouring cupcakes can be simple and easy to create.
Here's a simple recipe to start...enjoy!
Sponge Mix:
125g Self Raising Flour
125g Caster Sugar
125g Soft Margarine
2 Eggs
This mixture will make approximately 12 medium sized cupcakes.
Frosting:
125g Butter (unsalted at room temperature)
250g Cream cheese
125g Icing Sugar
Method:
For the sponge:
Add the margarine and caster sugar to a bowl. Cream together until the butter is soft. Then add in the eggs and beat together. Gently sift the flour into the mixture and fold to ensure the mixture stays light and fluffy.
Then spoon the mixture into the cupcake cases until around 2/3rds full, bake in the oven at around 200oC, gas mark 5/6 for around 20 minutes. You will know when they are ready as they will be golden brown in colour and if you press firmly on the top the sponge will spring back into shape.
For the frosting:
Beat together the butter and cream cheese in a bowl, when mixed thoroughly start to sift the icing sugar into the mixture. Add as much or as little icing sugar as you like (125g is a guide), the more you add, the stiffer the mixture will be and will hold its shape better on the cake.
Before putting the mixture onto the cakes, cool in the fridge for at least 30 minutes.
Then either pipe or spread the frosting onto the top of the cakes and decorate with finishing touches.
Alternatives:
If you like lemon, chocolate or vanilla cupcakes why not try adding in some lemon juice, cocoa or vanilla extract to the sponge and frosting to give it that extra special touch!