Chocolate Brownie Recipe
---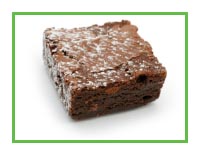 Baking is an ideal activity for children on a wet day. There are plenty of opportunities for involving them in collecting together the utensils needed, weighing and measuring out ingredients, mixing, pouring and, most importantly, tasting.
This chocolate brownie recipe is a great one. It is easy to make and, apart from perhaps some child-sized cooking utensils from a children's baking set, the ingredients and equipment needed are readily available in most kitchens. Best of all, the brownies are delicious.
The supervising adult should undertake the tasks involving the hob and the oven.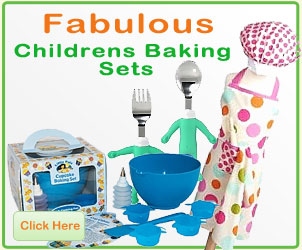 Ingredients
170g (6oz) plain chocolate
115g (4oz) margarine or butter
225g (8oz) soft brown sugar
1tsp vanilla essence
2 eggs
170g (6oz) plain flower
100g (4oz) chocolate chips

Method
Pre-heat the oven to 180°C or 350F and grease the tin.
Break the chocolate into pieces and place in a small heat proof bowl.
Melt the plain chocolate in the bowl over a pan of boiling water on the hob.
Cream the margarine/butter and sugar together in a large bowl
Stir in the melted chocolate and vanilla essence.
Break the eggs into a bowl and beat with a fork.
Add the eggs to the large bowl and stir in.
Add the flour to the large bowl and stir in.
Stir in the chocolate chips.
Pour the mixture into a baking tin – 20 x 30 cm is ideal.
Bake in the oven for 20 - 25 minutes.
Remove from the oven and turn out onto a cooling rack and leave to cool.
Cut into pieces and enjoy!
If you have an recipes which you have enjoyed making and would like to share, please contact us. We would be pleased to hear from you.