Stick Insect Kit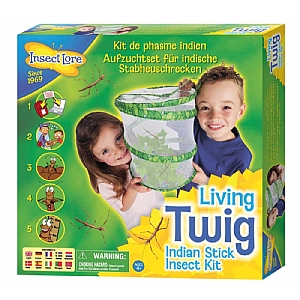 STICK INSECT EGGS AVAILABLE ALL YEAR
A stick insect kit which comes complete with pop-up housing for your Indian stick insects, a coupon for your eggs and a fun-filled fact guide. Order your eggs by post or online and watch as your new pets emerge, moult their skins and then hide amongst the twigs. A great way to learn about the life cycle of these intriguing insects.

Your coupon entitles you to 7-10 eggs and comes with a success guarantee. £3.99 p&p payable on ordering.

Your Indian stick insects will eat vegetation including brambles, oak and hawthorn. Further information is included in your fact guide.

To learn more about your stick insects read Ten Interesting Facts About Stick Insects.

This product is from Insect Lore. A wide range of Insect Lore products are available from Spotty Green Frog. The range includes a Wormery, Butterfly Farm and Kids Garden Tools.
30cm tall pop-up housing
Certificate for 7 10 eggs
Success guarantee
Not suitable for children under 3 years old
Ideal for children years 7+
2.50 p&p payable for eggs
Delivery options
Standard Delivery

£4.49

Express Delivery

£8.95

Highlands, Islands & N.I.

£12.99
Mainland UK (excluding Highlands)
For full details of our delivery options click here
You may also like
Customer Reviews





Stick Insect Kit
Reviewed by Jonathan Adams from Manchester
The stick insect kit came very quickly and is of a high quality .
October 2012
Try these categories:
Minibeast Habitats and Lifecycles
Butterfly Kits & Life Cycle Sets
Insect Lore