Older Children's Trowel Fork & Cultivator Set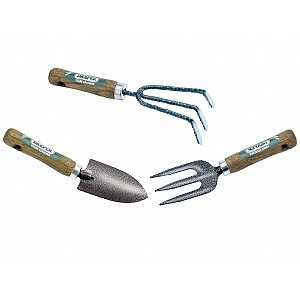 If you are looking for really high quality gardening tools for children the quality is better than most gardening tools for adults this childrens Trowel, Fork and Cultivator could be the answer.
They have wooden oak handles and the heads are carbon steel.
Other products in this range of quality childrens gardening tools include a spade, a fork, a broom, a leaf rake, a hoe, a soil rake and a digging fork.
The garden tools are ideal for children aged 7 and over and should be used under adult supervision.
Save 10% on our Gardeners Apprentice tools by buying a set of Gardening Tools for Older Children.
Fork: 20 cm in length (approx)
Trowel: 22 cm in length (approx)
Cultivator: Fork: 20 cm in length (approx)
Adult supervision required
Suitable for children over 7 years of age
Delivery options
Standard Delivery

£4.49

Express Delivery

£8.95

Highlands, Islands & N.I.

£12.99
Mainland UK (excluding Highlands)
For full details of our delivery options click here
You may also like
Customer Reviews





Reviewed by A Gray from North Devon
5, I have previously purchased the children's garden tool for my great grandchildren as they become old enough and have found them excellent value , now have some keen little gardeners
August 2018





well pleased
Reviewed by Kate Steer from Wirral
excellent quality and much appreciated by 9 year old recipient.
delivery swift and efficient
December 2014





well pleased
Reviewed by Kate Steer from Wirral
excellent quality and much appreciated by 9 year old recipient.
delivery swift and efficient
December 2014
Try these categories:
Gardening for Children
Gardening for Schools
Childrens Garden Tools