Childrens Easel - Chalkboard & Whiteboard with Paper Roll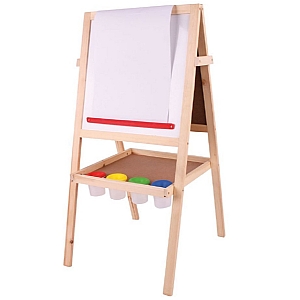 A BLACKBOARD AND A MAGNETIC WHITEBOARD
This childrens easel will give your budding artist hours of creative fun! Our double-sided easel has a blackboard on one side, a magnetic whiteboard on the other and a roll of paper that can be pulled down to paint on, with a shelf below to keep the paints, chalk and pens on (craft materials not provided).
The floor-standing easel is 95.cm (36 inches) high and 56cm (22 inches) by 48cm (19 inches) around the base.
Don't forget to add our Easel Accessory Set which includes paint, paint pots, brushes, extra easel paper, chalk, eraser and dry erase marker. Need an extra roll of paper? Please see our Easel Paper Rolls.
We stock a wide variety of wooden toys for the playroom, bedroom or nursery.
Double sided: whiteboard on one side, blackboard on the other
Paper roll included for added play value
95.cm (36 inches) high, 56cm (22 inches) by 48cm (19 inches) around the base
Suitable for 3 years up
Delivery options
Standard Delivery

£4.49

Express Delivery

£8.95

Highlands, Islands & N.I.

£12.99
Mainland UK (excluding Highlands)
For full details of our delivery options click here
You may also like
Customer Reviews





Reviewed by Anonymous
Well made and easy to assemble but it is too short for our four year old.
December 2016





Reviewed by Anonymous
This easel seems sturdy and well made. I liked the large tray which should minimise the damage from spilled paint!
The paper roll is also very useful to havre paper available all the time.
September 2012
Try these categories:
Art & Craft Kits for Children
Toys for Tots
Toys for Small Kids