33 Caterpillar Refill for Classroom Sets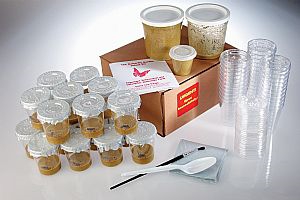 You can buy replacement caterpillars for butterfly sets. This refill voucher is for 33 caterpillars which is ideal for the Large Pavilion set or the Classroom set. Ideal for observing caterpillars in schools and homes. When you receive your voucher, you can order your caterpillars online or by post to arrive during a week which is convenient for you. This allows you to work round school holidays and project plans. Allow 3-5 weeks for your caterpillars to turn into butterflies.

The caterpillars from the breed Insectlore become beautiful Painted Lady Butterflies which are native to the UK.
The caterpillars are usually available from the end of February to September (exact dates are dependent on weather). However, if the weather is below freezing the dispatch date will be delayed.


Spotty Green Frog has a large range of butterfly products which can be viewed via the Insect Life Cycle tab to the right of this page of by clicking on the link Butterfly Life Cycle.
Please note that Express or Saturday delivery is not available for caterpillars.
33 caterpillars
Butterfly cage needed
Delivery options
Please note that Express or Saturday delivery is not available for caterpillars.
Standard Delivery

£4.49

Express Delivery

£8.95

Highlands, Islands & N.I.

£12.99
Mainland UK (excluding Highlands)
For full details of our delivery options click here
You may also like
Customer Reviews





Caterpillars
Reviewed by Sarah Mazzei-Scaglione from Staffordshire
Came quickly after ordering and I was able to order the caterpillars immediately - rather than waiting for the voucher. (This was because you rang me to check.)
Thank you.
June 2015





Reviewed by Pauline Evans from Broadfields Primary School
This will be the second year for our school.

The first year was so successful that we had to go it again!!


February 2012
Try these categories:
Butterfly Life Cycle Sets
Butterfly Kits & Life Cycle Sets
Insect Lore