Starting a Cooking Club for Children
---
A guide on How to Set Up a Primary School Cookery Club for parents and teachers. Starting a cooking club for children can be fun and rewarding for everyone involved.
What better way to get the kids involved in making dinner than to inspire them and get involved with a cookery club. Cooking clubs can be set up in almost any environment with a few essential items; even cooking without an oven is possible, so why not think about starting a cooking club for children.
With cooking an essential skill in life the earlier kids start to learn about how to cook the better. Teachers or parents can run a cookery club and have huge amounts of fun creating masterpieces!
This 'How to' guide will give some key pointers on how to set up your own Cookery Club.
1.Decide on a place for your cooking club
If you are considering setting up a cookery club you need to decide upon a place that is suitable. Having access to water is a must with cooking especially for those messy ones to wash their hands!
Will you have access to an oven, or will you need to consider using a variety of recipes that do not require the use of an oven. TOP TIP: If you do not have access to an oven design your cookery school so that you do not need an oven!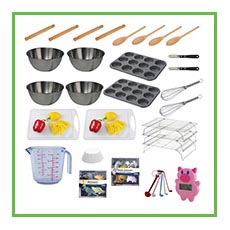 Ensure that all surfaces are suitable for cooking and that there is access to storage for equipment and also a fridge for ingredients and of course the amazing finished products!
The NHS Food Hygiene Advice article gives great advice on how to ensure hygiene is kept to a high standard.
2. Equipment needed for a cooking club
Cookery Clubs will need to ensure they have the correct equipment to make all the delicious recipes and aid children in their cooking challenge.
Start up kits can include kits for cake and cookie making, not only fun to make but yummy to eat afterwards too!
This Cookery Club Starter Set is the perfect way to begin and offers a variety of items including mixing bowls, rolling pins and cutters.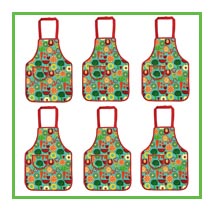 You should consider where you are going to store the equipment safely after use ensuring that all equipment is clean beforehand. TOP TIP: why not consider using wipe clean aprons like the Cookery Club Wipe Clean Aprons to save on laundry!
3. Safety elements
When cooking with children it is important to enforce safety particularly when using knives or hot equipment such as ovens.
It is important not only for safety but also hygiene that you consider when you are going to purchase your ingredients and how they are to be stored once purchased. Fresh ingredients will almost certainly require a fridge. The NHS article Store Food Safely gives the information required to ensure all food products are stored correctly.
Before beginning to cook with children you should always check with parents about any allergies that the children have or dietary requirements, including any medication required. You should consider this when purchasing ingredients, checking labels for warnings regarding nuts or dietary requirements.
4. Group sizes and helpers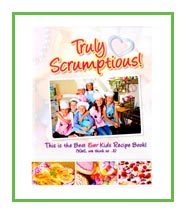 You should consider how many children you are able to take on through the cookery club; you may consider carrying out sessions and have limited spaces on each of the sessions. You could ask for volunteers and if so you could allocate so many children to a volunteer and let them carry out their own cookery challenge.
5. Recipes
Recipe folders are an excellent way for kids to collect all of the recipes they have cooked and keep them safe so that they can make them at home with Mum or Dad in the future. Recipe books offer a variety of ideas for kids to start cooking. This Kids Cookery Book is even wipe clean!
Recipes could be printed and laminated with colourful pictures illustrating the stages of their creation, making learning fun and easier for younger children!
For some great Recipe Ideas click on the link and follow to the bottom of the page.
Cookery schools are an excellent way to teach basic life skills to younger children, whether you are a teacher or parent the chance to help young children learn to cook and see that proud smile on their faces when they have created a wonderful meal can be reached by following these few ideas. Once you have considered and planned out all the necessary items for your Cookery Club you can begin the fun, help educate children on food and how to cook the most delicious meals, you never know they could turn out to be budding master chefs!
For more ideas and products for Cookery for Schools or Childrens Cooking please click on the links.