Childrens Educational Toys
Many toy manufacturers are taking the line of educational toys as high priority when designing and creating children's educational toys. Kids Educational toys not only offer a time for play and recreation but also offer huge amounts of learning through touching, observing, counting and much more.
By shopping around for educational toys parents can often find a wide range of toys that will suit different types of learning, after all each child learns differently, at different paces and with different ideas.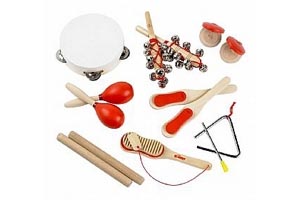 Many of the educational toys available on the market today offer children a variety of challenges rather than having one toy for one task, for example a musical instruments set (whilst making a lot of noise) can develop children to learn about different sounds, shapes and textures whilst offering different challenges with each instrument they learn.
This award winning wooden musical instrument set from John Crane offers a variety of sounds and shapes for children to explore.
Children will have great fun with toys especially when spending time with their parents, having this time between you to play and learn is one of the key developments children can experience by communicating and interacting with others.
Sharing toys and activities with other children also makes educational toys develop in their own way, allowing the child not only to experience the toy but the enjoyment of experiencing playing with others their own age.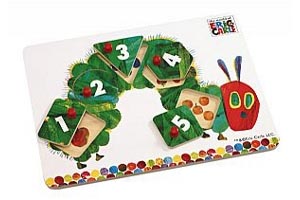 Children learn about themselves and their surroundings through their play time, this jigsaw in the Hungry Caterpillar design allows children to visually learn and associate characters from books but also learn numbers and counting.
Toys are imperative to a child's learning and development. Children's educational toys offer different levels of interaction and learning through varying topics of interest, there's bound to be something out there to suit everyone!
For more information about Children's educational toys go to www.SpottyGreenFrog.co.uk and take a look at the range of educational toys available.