Spotty Pink Toaster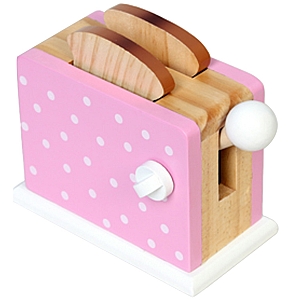 Our wooden Spotty Pink Toaster set includes 2 slices of popping toast. Pull down the spring loaded handle to pop up or eject the toast. Turn the white knob to get toastier toast!
Size: L13cm x D7cm x H12cm
Age: 3 Years +
Delivery options
Standard Delivery

£4.49

Express Delivery

£8.95

Highlands, Islands & N.I.

£12.99
Mainland UK (excluding Highlands)
For full details of our delivery options click here
You may also like
Customer Reviews
There are currently no reviews of this product.
Try these categories:
Magni Toys