Pack of 10 Biodegradable Plant Pots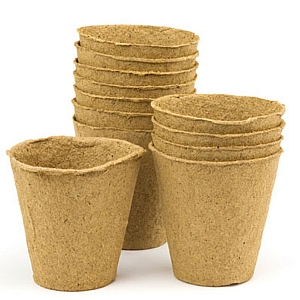 Our 10 pack of 6cm Round Fibre Pots are perfect for growing healthy seeds and cuttings. These pots are an eco friendly alternative to plastic growing containers for plants.
Plant roots will begin to grow through the biodegradable Fibre Pot, allowing you to plant it straight into the ground to avoid disturbing the roots and stressing the tender young plants that you have nurtured.
Ideal for seeds, seedlings, transplanting and cuttings.
To see our full range of School Gardening Supplies click on the link or go to Gardening.
Delivery options
Standard Delivery

£4.49

Express Delivery

£8.95

Highlands, Islands & N.I.

£12.99
Mainland UK (excluding Highlands)
For full details of our delivery options click here
You may also like
Customer Reviews





John
Reviewed by Smitha488
Definitely, what a fantastic website and informative posts, I definitely will bookmark your blog.All the Best!
July 2018
Try these categories:
Gardening