Make Your Own Compost
Make your own compost for your garden at home or school... it's easy! Children's gardening is becoming a large part of school education and composting is the route to growing great crops!

Making your own compost can be as simple as you want it to be. For a cheap and easy method create a pile of waste in an unused area of your garden. With this type of compost heap it is important to make sure that you mix up the waste regularly to allow air and moisture to flow through. This will help create the right environment for the micro-organisms to work away at breaking down the waste.

Worm Composters are an alternative to normal composting methods or compost heaps. Worms are fantastic at breaking down waste into strong and nutrient rich compost that is perfect for spreading over your garden. Many worm composters are also able to collect "Worm Tea" which is the liquid produced during the composting process. This is a fantastic liquid fertiliser – but be careful, this mixture is very strong and must be diluted before being used on plants.

Good composting items include garden waste such as leaves, grass cuttings, bark and twigs. Food waste can also be used including peelings, tea bags and eggshells. You can also use newspaper and cotton wool.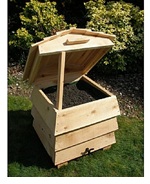 There are items that are not good for composting; these are particularly items that are manmade for example synthetic fabrics or even food items such as dairy products and whole eggs should not be used as these products are difficult to break down.

Once you have a pile of luscious compost you can spread this evenly over your garden. Make sure you dig your fresh compost into the already existing soil to ensure that the nutrients in the compost are absorbed deep down.

Your crops will be very happy to have such a nutrient rich base to grow in and once they are ready you can use them in the kitchen to make a scrumptious meal!

Spotty Green Frog has a range of Composters available; click the link to take a view.

If you already have a worm composter and need some hints and tips then take a look at our Worms and Composter FAQ.
Visit our Spotty Green Frog Facebook Page!