Children's Junior Tool Box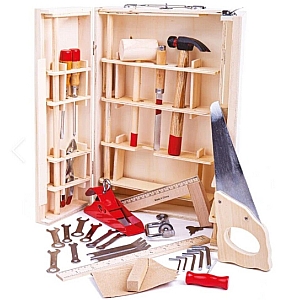 This is the best of our tool cases: hinged wooden case with lots of tools for the little craftsman!
You can find the right tool for any essential repair – e.g. hammer, mallet, screwdriver, spanner set, allen keys, pliers, saw, t-square, plane and chisels. All of the tools can be organised and stored in the internal frame in a neat and tidy way and are locked and secured for transport. Perfect for little craftsmen who are working with metal and wood!
Age: 8+
Please note that this is a children's toy tool set. Tools such as the pliers, screwdrivers, spanners etc work like real tools but the wood plane is blunt and so is the saw, to comply with UK laws regarding the supply of knives/blades to under 16 year olds.

Tool box dimensions: 37cm x 24cm x 9cm.
To see our full range of Children's woodworking kits, carpentry tools and workbenches please click on the link for our Carpentry Tools & Workbench Play Sets section.
Delivery options
Standard Delivery

£4.49

Express Delivery

£8.95

Highlands, Islands & N.I.

£12.99
Mainland UK (excluding Highlands)
For full details of our delivery options click here
You may also like
Customer Reviews





Ideal first toolbox
Reviewed by Geoff from Seaton
Good selection of tools. Smoothing plane made from wood with a metal blade. Although it comes with the chisel and plane blunted for safety they can be easily sharpened as the metal is 'soft'. Expect grandson will enjoy it at Christmas!
December 2015





carpentry set
Reviewed by Anthony jones from pembroke dock
excellent, grandson will love it . lots of pieces
November 2013





Reviewed by Anne Dowling from Upminster Essex.
Pleased with the carpentry set. When it arrived and I opened the box, many of the items were loose and it took a little time to find the right place for them! Apart from that very pleased and sure Grandson will be. Regards Anne Dowling.
October 2013