Childrens Wheelbarrows
Childrens wheelbarrows in pink or green. These kids wheelbarrows are sturdy with metal frames. Ideal for transporting weeds, leaves and favourite teddies around the garden!
Save money by buying this childrens green wheelbarrow and garden tool set together. It is the perfect set for little helpers whether they are weedi...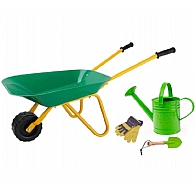 A handy metal wheelbarrow with soft hand grips and chunky plastic wheel. Brightly coloured green pan with blue frame with matching green handles a...
HALF PRICE RAKE
Buy a childrens wheelbarrow and garden leaf rake and pay only half price for the rake. Use this child sized wheelbarrow and leaf rake to have an af...