Gardeners Apprentice Garden Tool Set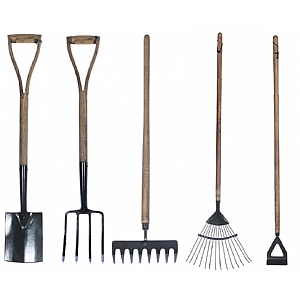 Ideal for Older Children Aged 7+
Our Gardeners Apprentice Garden Tool Set for older children includes a digging spade, digging fork, hoe, leaf rake and soil rake. These gardening tools for children are traditionally made to an exacting standard. Each tool in the set has a solid Ash handle and carbon steel heads.

These childrens gardening tools are ideal for children of 7 years or older. They can be used until the child can comfortably handle adult-sized garden equipment.

A set of Gardeners Apprentice Tool for Schools and a Hand Trowel and Fork are also available. Childrens gardening gloves are also available from Spotty Green Frog
Digging spade
Garden fork - Carbon Steel
Soil rake
Leaf rake
Hoe - Carbon Steel
Delivery options
Standard Delivery

£4.95

Express Delivery

£7.99

Saturday Delivery

£12.99

Highlands, Islands & N.I.

£12.99
Mainland UK (excluding Highlands)
For full details of our delivery options click here
You may also like
Customer Reviews





Reviewed by Sue Ford from north yorks
Tools are excellent. Very well made and proper tools not toys. Very good value for money. Service also superb as they were despatched immediately and delivered the next day.
November 2015





Reviewed by Mrs J Mills from Shrewsbury
Very pleased with this set, excellent examples of a product that was very hard to find at the right size for my seven-year-old grandson. Highly recommended.
June 2013





9319
Reviewed by Marion Paul from Edinburgh
Excellent delivery time and well packaged. Will deal again. Many thanks.
July 2012





Gardeners Apprentice Garden Tool Set
Reviewed by Lucy Mitchell from south west Scotland
Beautifully made but light enough for children. The set is great quality & I'm so jealous I'm looking for the equivalent in adult size! The youngest of our children is a small seven year old but they work for him and our hefty eleven year olds! They're all desperate to get out in the garden and work!Perfect.
February 2012





Reviewed by Anonymous
Very good quality items
May 2011
Try these categories:
Gardening Tools for Older Children
Joseph Bentley Gardeners Apprentice
Childrens Garden Tools
News
10 steps on how to set up a gardening club for children including information on the perfect tools for budding young gardeners....