Furniture for Children
A range of furniture for children including toy storage chests and caddies. Our kids furniture is made to a high quality and is also suitable for playroom use.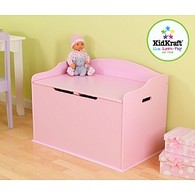 AVAILABLE IN PINK, WHITE AND BLUE
A Toy box for Kids. This Storage Chest for children is ideal for storing all your favourite toys away and to be used as a seat or table. Available...
Excellent value for money! A storage box with a soft padded cushion lid which doubles up as a seat. The box also contains 6 wooden toys for small c...