Childrens Worm Farm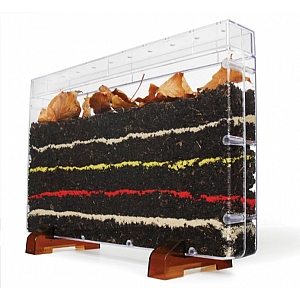 Look inside the fascinating world of worms with this fun and informative worm farm kit. Watch your worms mix up the different coloured layers in their chamber and feed them leaves. This product provides a great opportunity for children to learn more about worms' importance in our ecosystem.
Children are encouraged to collect their own worms and told how to in the instruction manual. However, an order form for worms is also included in the this kit to purchase worms online for £3.00 plus £2.95 p+p.
Please note: Worms are not included in the kit. Instructions are given on how to find them in the wild; alternatively order worms online.
Good Toy Guide 2008 - Gold Award Winner for the best Science and Nature Toy.
Education: Experiments included support National Curriculum Science KS1 and KS2. Free Teachers Notes and Lesson Plans are available to download for this product.
Size of Worm Farm when built: 30cm x 9cm x 20cm
Click here for teachers resources.
Recommended for ages 5 years and over.
Spotty Green Frog also has a variety of Worm Composters available for home and school.
Contents:
Plastic Housing
Plastic Lid
Feet
Cardboard Shade
Red Sand
Yellow Sand
Plain Sand
Colour instruction manual
Delivery options
Standard Delivery

£4.95

Express Delivery UK Mainland

£7.99
Mainland UK (excluding Highlands)
For full details of our delivery options click here
You may also like
Customer Reviews





Worm Farm
Reviewed by P Lancaster from London
Item arrived in good time and we were pleased to see it looked better in the flesh than even on the site.


January 2013





Reviewed by Anonymous
Good value for money.
October 2011





Children's Worm Farm
Reviewed by Gavin McInerney from London
A very expensive product for what it is. £15 pounds and does not include a small bag of earth for the worms. Shockingly you then have to pay and extra £2 for the worm eggs. Had I know this I would not have purchased the product. I have bought something similar for butterflies that includes all the costs entailed. I could have just got a jam jar and a bucket or earth instead of paying £15. Disappointing I will not be using again or recommending Spotty Green Frog.

Response from Spotty Green Frog
Thank you for your review.

I am sorry that you were disappointed with the product.

There is a postage charge to pay when you order your worm cocoons. We do try to make this clear. There are two references to this charge in the description of the product.

The set is popular for use in both homes and schools because it has been carefully designed. An important feature is the viewing chamber for the cocoons.

Caroline
March 2011
Try these categories:
Insect Lore
Eco Gifts for Children
Minibeast Habitats and Lifecycles
News & Articles
10 Interesting Facts about Worms. The childrens worm farm from Spotty Green Frog is ideal to watch the worms hatch and develop....